Home » 2015 » January » 19 » PS4 and Xbox One have been combined into one laptop
---
5:18 AM
PS4 and Xbox One have been combined into one laptop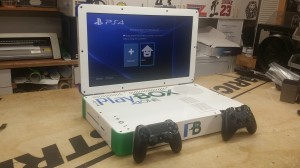 Engineer Ed Zariсk made a laptop PlayBox from the consoles XBox One and PlayStation-4.
This engineer printed the laptop case on the 3D printer, fit in it hardware of two consoles and integrated with monitor Vizio 22-inch screen with a resolution of 1080p.
Designer also has built the HDMI for output to a monitor or TV.
Disc drives are located on the sides.
To switch between the consoles is possible with a single button.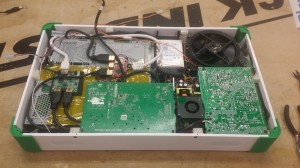 At the same time the consoles will not work because the engineer is very afraid that the unit will overheat.
Zariсk produced only one prototype by order for the buyer. But is ready to make other PlayBox on the order, if there are willing. He told about it in his blog.
Hmm, he does it not bad.
Category:
News about Gaming Devices
|
Views:
536
|
|